Axene XQuad spreadsheet application XQuad features all the necessary functions for scientific and financial calculations and for graphical presentation of numerical data, including over 100 mathematical, logical, and string manipulation functions, various types of graphs (from histograms to radar), importation of external data files (text, Excel, etc.), production tools which allow text in cells to have automatic effect on graphical presentation, and the ability to hide graphics on the worksheet. All these features along with the same ergonomic interface that you find in Axene Xclamation (Desktop Publishing) and Axene XAllWrite (Word Processor).
---
Release 2.0.1
---
Environment

100% Unix native
Supported by most Unix platforms: AIX, DIGITAL-UNIX, DG/UX, FREEBSD, HP-UX, IRIX, LINUX, LINUX SPARC, MIPS, NETBSD, OSF/1, SCO, SOLARIS PC, SOLARIS SPARC, SUNOS, UNIXWARE, ...
X11 / Motif Graphical User Interface, available in English, French, German or Spanish.
Adjustable interface
International character support (ISO Latin-1)
Type 1 PostScript® Fonts
WYSIWYG display
Multiple spreadsheets can be active simultaneously
Up to 702 columns and 100,000 rows
Workstation or Floating license management
User interface

Mouse and keyboard shortcuts
Pulldown menus
Formula bar with cell coordinate display
Thematic toolbars dynamically displayed
Adjustable document windows
Cut - Copy - Paste
Drag & Drop
Trash (to remove an object, drag and drop it into the trash)
Selective deletion
Dynamic information bar (describes commands and tools)
Constant contextual access to on-line help using any HTML browser (XMayday or other)
Data Entry

20 significant digits
Automatic generation of arithmetic and geometric series (automatic determination of probable outcomes)
Right and down automatic cell duplication
Insertion / Deletion of rows and columns
Data formats: pre-defined or personalized formats (precision, units, fractions, exponents, dates, times, Boolean, percentages, ...)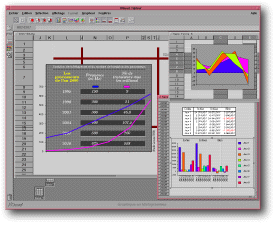 XQuad snapshot
Display

Zoom from 50 to 400%
Available for monochrome, 8, 15, 16, 24 bit X servers
Color definition according to modes: RGB, CMYK (with black optimization), HSB (Hue, Saturation, Brightness) and grayscale
Customizable color palette (16 million colors possible)
Adjustable row and column size
Best fit row and column size
Many integrated Scalable PostScript® screen fonts
Display / Hide: grid, frame borders, information bar, row and column headers, formulas, ...
Worksheets displayed in tile or cascade style
Multiple discontinuous selection capabilities
Magnetism aligns objects to cell borders

Calculation Functions

More than 100 functions
Mathematical
Statistical
Financial
Date / time
Character string manipulations
Logical
Cell addressing
Relative or absolute calculations
Function pasting capabilities

Document Formatting

Border, text and background colors
Background patterns
Text orientation: horizontal and vertical
Horizontal text alignments (centered, left, right, justified)
Vertical text alignments (centered, top, bottom, justified)
Text overflow into adjacent empty cells (horizontally and vertically)
Multiple-line text display within a single cell
Many typographic styles: bold, italic, underlined, strike-through, shadowed, small caps, factors, exponents, ...

Importing Data

Text mode formats (separators configuration, UNIX code, DOS or Macintosh)
Excel

Exporting Data

Adobe Illustrator® (AI), Xclamation, ...
Text (formatted, CSV, ...)
HTML

Graphs and Charts

Configuration wizard for chart and graph creation
Histograms, bar graphs, area graphs, curve graphs, pie graphs, radar, ...
Infinite number of possible display planes
Selection of an object's display plane (move up/ push back)
Legends, titles, axis lines, X-axis labeling, series name, ...
Adjustable presentation parameters
Able to hide graphs and charts backgrounds on worksheets or colored backgrounds
Framing
Multiple graphs or charts may be displayed simultaneously
Automatic updating of graphs and charts based on the worksheet

Printing

PostScript® printing
Printer selection
Choice of number of copies
Choice of page formats (standard or personalized formats)
Portrait or landscape orientation
Margin definition
Vertical or horizontal centering
Optional printing of grid and row / column headers
Reduction (percentage value or number of pages)
Printing from left to right or from top to bottom
Print a selection
Print to a file