The text editor creates or modifies a frame's text. To access this editor only one frame may be selected in the active document and this frame must either be empty or already contain text. There are three ways to open the editor: through the first button of the text manager's horizontal tool bar, through the empty frame's contextual menu, or through the text frame's contextual menu.


---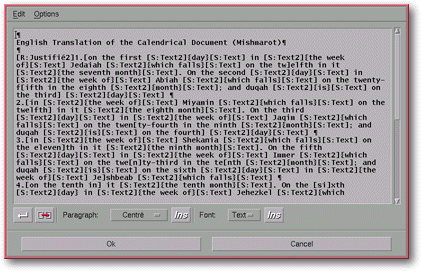 Screen shot: Text Editor
---
Menu Bar:
Text Areas:
The text field containing the selected frame's text. Text enrichments (font styles, specifications, frame breaks, returns and paragraph endings) appear in the editor as tags but are not displayed in the frame. A tag acts as a single character: to delete it, position the cursor in front of it and push the "Del" key.
To insert tags, use the menu bar or the buttons on the bottom tool-bar.
The Selected area is like all other text fields, notably in that it is possible to use accented characters from the ISO Latin 1 character list, whether using the corresponding keyboard keys or the composed characters.
Lower Control Bar:
Lower portion of the editor:
---